Tech Published on December 13th, 2008 | by Kieran
0
Brown Bread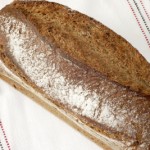 This recipe is for the Best Brown Bread ever, stolen from a very good friend of mine. It's so simple to make and tastes brilliant.
8oz Wholemeal Flour
2oz Porridge
1oz Wheatgerm
1oz Wheatbran
1oz Pinhead Oatmeal
1/2 oz Butter
3/4 Pint Buttermilk
1 tsp Salt
1/2 tsp Sugar
Seeds and fruit are at your discretion, I generally use:
Poppy Seeds
Sunflower Seeds
Sesame Seeds
Fruit – Apricots are really nice in it or Sultanas. Crushed mixed nuts are a nice alternative too.
Now for the Science Bit..
Add all the dry ingredients in together, seeds, fruit etc.
Mix well
Rub in the butter
Add the buttermilk
Mix well, consistency should be similar to soggy Wheetabix !!!!
Pour into greased tin or silicone mould
15 mins in a fan oven @ 225 degrees then reduce temp 200 degrees for 30 mins.