Gadgets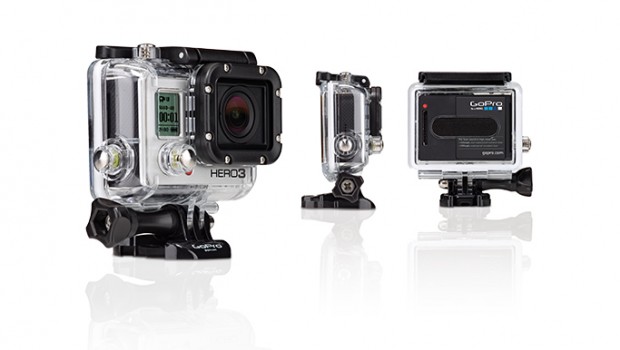 Published on December 2nd, 2012 | by Kieran
0
GoPro HD HERO3
I've been using a GoPro HD HERO2 for the past year now, becoming my favourite piece of kit for capturing activities from amazing angles with stunning quality. Then last month I read with great excitement that GoPro have realeased the GoPro HD HERO3, with even more features and capabilities.
Unlike the previous GoPro cameras, the HERO3 comes in three different editions. Each has a different set of features and functions, and as a result a different price. The HERO3 Black Edition, White Edition and Silver Edition.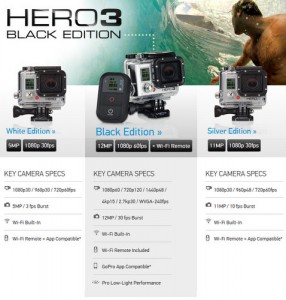 The flagship of the range, the HERO 3 "is the most advanced GoPro, ever. No expense was spared during its development, resulting in a GoPro that is 30% smaller, 25% lighter and 2x more powerful than previous models. Wearable and gear mountable, waterproof to 197′ (60m), capable of capturing ultra-wide 1440p 48fps, 1080p 60 fps and 720p 120 fps video and 12MP photos at a rate of 30 photos per second, the HERO3: Black Edition is the world's most versatile camera. Built-in Wi-Fi, GoPro App compatibility and the included Wi-Fi Remote (normally a separate accessory) make the HERO3: Black Edition all the more versatile, still."
All of the cameras support Wi-Fi, allowing the use of the Wi-Fi Remote and the GoPro App (available for Apple and Android devices). The HERO3 also now uses MicroSD supporting up to a 64GB card.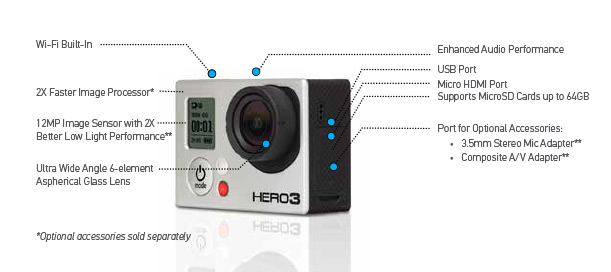 The best way to see all of the features of the GoPro HD HERO3, is to watch the video created by GoPro themselves:
[youtube]http://www.youtube.com/watch?v=xkEr4JGRXFA[/youtube]
Having looked at all the features and videos samples, the GoPro HERO3 is definitely going on my wishlist.