Gadgets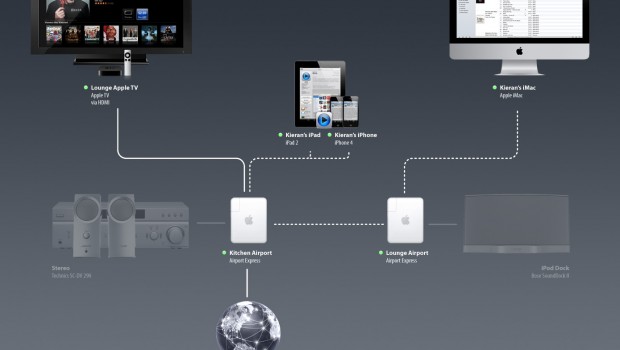 Published on November 28th, 2011 | by Kieran
2
My Apple Setup
Over the past few years my collection of Apple gadgets and gimzos has grown. Each device in it's own right is a great piece of kit, and will in true Apple fashion integrate or work with another Apple device. While I am sure I am not using each device to it's true potential, here is how I have set up my small selection of devices. Honestly they become integral to pretty much everything I do and has changed the way I browse the web, listen to music and watch movies.
My Setup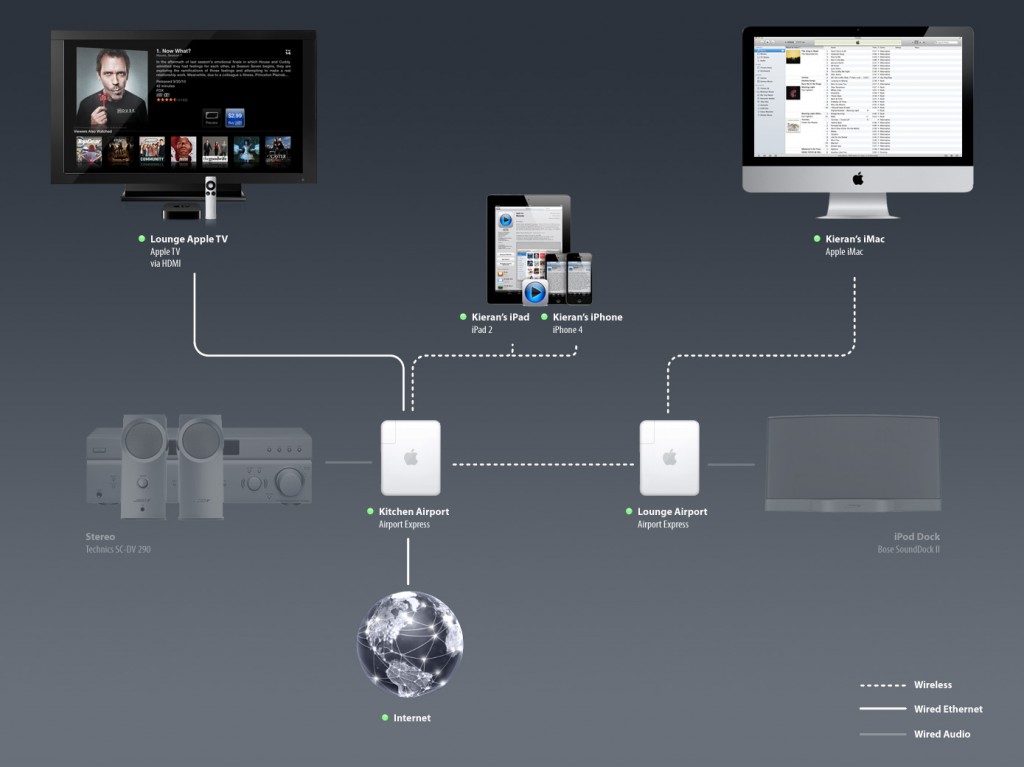 So far the collection consists of:
Apple Airport Express (2)
Apple TV
Apple iMac
Apple iPad 2
Apple iPhone 4
Apple iPhone 3GS
The backbone of the whole system are two Apple Airport Express(es), which provide the wireless network throughout the house. Connected to each is either a Stereo HiFi System or an iPhone Dock, allowing me to use Airplay to stream music in the Lounge or Kitchen.
The other core component is my beloved iMac. Much to the delight of my energy provider, this is powered on 24 hours a day, 7 days a week. Running iTunes it hosts my collection of music, videos and photos. Using the iTunes Store it is so easy to legally purchase music and videos, much quicker than it would take to drive a video or music store. In fact the items on iTunes are generally cheaper than many of the large retail chain. In fact I don't I have rented a physical video or DVD in over 2 years.
While I was able to stream my music around the house and to watch movies and TV programs that I had bought on the iMac, something was missing.
I was lucky enough to pick up an Apple TV 2 when it was released in the US, and it really has tied the whole system together. Having activated Home Sharing, I can now sit in the living room and watch a movie that I have downloaded (to buy or to rent) in glorious High Definition. Browse the web, or peruse photos and videos on the iPad or iPhone and use Airplay to instantly put it up on the TV.
The thing about all these devices is that they have crept into my everyday life, and should any element of it die or break I know I will be straight out to buy a replacement.