Tech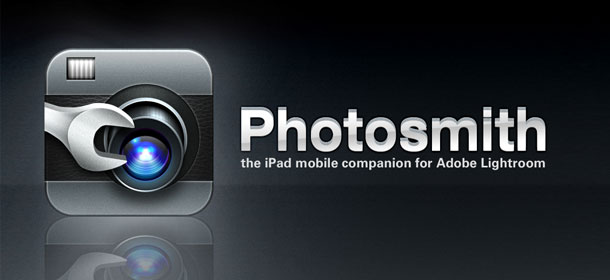 Published on December 19th, 2011 | by Kieran
1
PhotoSmith App
I happened across a new iPad app called PhotoSmith last night. Designed for users of Adobe Lightroom, it allows you to "organise, rate, tag and label your photos while on the road with your iPad." Then via a Plugin for Lightroom, it will synchonise photos you have uploaded along with the metadata into your Lightroom catalog wirelessly.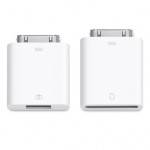 Available on the App Store for €14.99, in order for you to be able to import photos from your camera the app will also require you to use the Apple iPad Camera Connection Kit. This is available for a further €29 from the Apple Store or from your favourite Apple Retailer.
The kit comes with two connector, one for using an SD card and the other for using a USB lead direct from the camera. Using it is an absolute breeze, simply plug it into the bottom of you iPad, insert your SD Card or your USB lead and launch the Photos app and import the photos you want. A list of supported cameras can be found on their camera compatibility list.
If you are lucky enough to use an Eye-Fi card, you can skip the whole Camera Connection Kit as the Eye-Fi card will upload the photos to the iPad for you.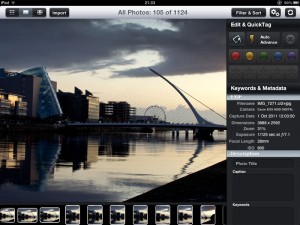 Once you have uploaded the photos, you launch the Photosmith App on the iPad and it will start to load the uploaded photographs. While you can use the app straight away, I left it for a few moments to build it's indexes and previews.
The interface is very clean and intuative and gives you a number of viewing modes. In Grid View you can organise and sort through the photos, and group them into Collections. Sorting photos is madeeven easier with some simple and easy to use gestures, such an tapping a photo with two fingers to select it.
When viewing the photos in the Loupe View you are also presented an "Edit and QuickTag" dialog. Here you can quickly:
Rotate the photo (in case your camera didn't detect you were lying on your side)
Auto Advance (so a single tap moves to the next photo)
Reject (and therefore not sync)
Label (red, yellow, green, blue, purple)
Star (1-5; whatever system works for you)
View the EXIF metadata – shutter speed, aperture, ISO, etc
Edit any of the IPTC fields (Creator, Location city, state, zip, etc)
Then once you have selected the photos and applied the metadata to them, you can fire up Lightroom and open the Photosmith Plugin where the photos are imported into your Lightroom catalog.
I have read lots of reviews complaining that the app should have more features and give you the ability to do more advanced edits on the iPad. However, isn't that what Lightroom is for??? For what it is I think this is a great app that allows you to do the time consuming task of sorting the photos on a really slick device. Granted I am not a professional Lightroom user, but I think this app could save loads of time sorting through your photos.
In my opinion you have to realise the limitations of a device like the iPad. If you need more advanced editing features, use Lightroom on your big powerful Laptop or Desktop. The iPad simply does not have the power to do these kind of edits (yet). The other limitation worth mentioning is that you import the photos to your iPad first, if you are someone who takes a large amount of photos, watch out as your iPad will get very full very quickly.
[vimeo height="281″ width="500″]http://vimeo.com/27254782[/vimeo]