Tech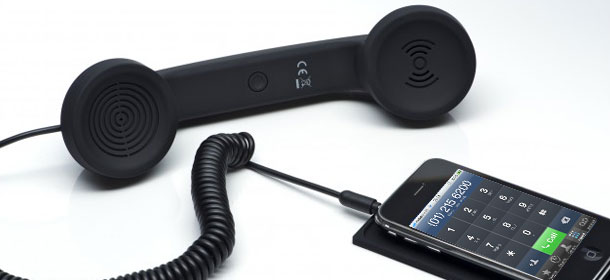 Published on December 14th, 2011 | by Kieran
0
Pop Phone
I was browsing around the local Vodafone store and picked up my lateste gadget. A Native Union Pop Phone for €29.99.  Also known as a MoshiMoshi, it is effectively a wired handset that plugs into a phone or device (in my case an iPhone and iPad) via a 3.5mm jack. There are adaptors available online that allows itto work with most of the mainstream phones from the likes of Samsung, Sony, Nokia etc.
OK it is a complete gimmick, however I do honestly think I will make good use of it. Especially in work where I spend a vast amount of time talking on a mobile phone. Now I can leave the phone on the desk on charge while I am using the hanset to talk and I can type away and use the computer with my now free hands.
The phone has a useful button on it allowing you answer / hang up / reject calls (have a look at my Apple Headphones Shortcuts post). The only negative thing I have found is that the coiled cable will move the phone about the desk unless you find a way of stopping it (I used some Bluetak).
I even managed to come up with my own accessory (elastic band) that turns it into a handsfree phone. Though I would not recommend this for long term use though, long term being anything over 30 seconds that is.
According to their website, Native Union describe the Pop Phone:
[quote]Designed by the French designer David Turpin the POP handset combines classic style with a contemporary edge and is finished with a luxurious soft-touch texture. The handset has been manufactured with a high quality speaker and microphone and can be used with all mobile phones when fitted with the correct adaptor (sold separately) and when fitted with a USB adaptor (sold separately) can be used for VOIP computer telephone calls (Skype, Google Talk…). This product is fitted with a 3.5mm jack (compatible with the iPhone)[/quote]
One main claimed benefit is a helath related one, where using the Pop Phone reduces the amount of absorbed cellular radiation by 95 – 99%. The Pop Phone really is a great bit of fun and had brought a smile to faces of many of my colleagues.

Apart from phone adaptors, Native Union also provide adaptor such as Splitter Cable and USB Adaptors allowing you to use the the Pop Phone with your laptop or PC for use with your favourite voice or video application.